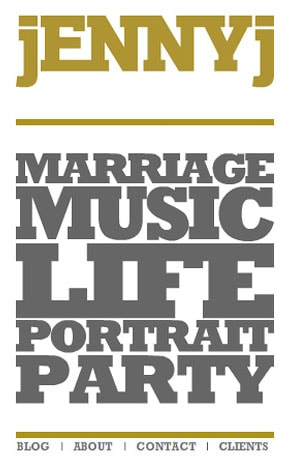 After many months of dreaming, planning, culling, editing and coding, the new photojj.com portfolio site is live!  A huge high five goes out to the folks at Into the Darkroom for all their help putting this puppy into play.  I went to them with a design – a result of months of notepad sketching slapped together in Photoshop and they helped me dot the i's, cross the t's and code it into a living, linking website with a super smooth back-end content management system.  I owe a whole lotta thank-yous to them and the others that helped me get here:
Greg Lutze, for fine tuning the new logo, adding some much needed containment lines to the above navigation design and designing my fancy new biz cards, mailers, letterhead and leave-behinds.
Patrick Wright, for creating a fun, quirky promo video that accurately represents my work and makes me laugh every time I watch it.
Sean Flanigan, for shooting all those rad bio pics on this blog and the portfolio site, providing valuable feedback during the design process and constant support of my photography.
James Moes, for his smart design tips and slab serif recommendations.
William Anthony for suggesting some last minute gallery edits (which I'm still working on, thanks Bill!)
Anthony Ronga for being my consistent ITDR contact, always available to provide sensible advice and catch the little things I hadn't thought of.
Michael Sablone at ITDR for staying up late with me tonight to add last minute details and launch this mama.
and of course my sweet husband Robin, who will finally have me in bed at a decent hour again. I loves you, honey.
Thank you!
Now get on over to photojj.com and check it out!