From our first phone conversation about wedding photography, I felt like I had known Amber for years.  She is smart, funny, down to earth and just awesome to be around.  The first time I met Mark was on their wedding day, and it was obvious that these two complimented each other well.  He's the sweet to her salty sweet.  Mark comes from a large, loving family and between the Friedl clan, Amber's family and their extended family of lifelong friends, I felt like I was a member by the evening's end.
Preparations were made early at Orcas Island's Outlook Inn, where the reception was held.  I fall in love with this place every time I stay there.  If only I could wake up to this view every morning.  The San Juan Islands are the paradise of the Pacific Northwest.
The ceremony was held at the gorgeous Victorian Valley Chapel on 18 acres of land in a valley only a short drive from the Orcas ferry.  Leslie & John Ginnes from Patina Floral Design & Planning filled the space with tall glass vases with floating candles, flower petals and plumes of peacock feathers.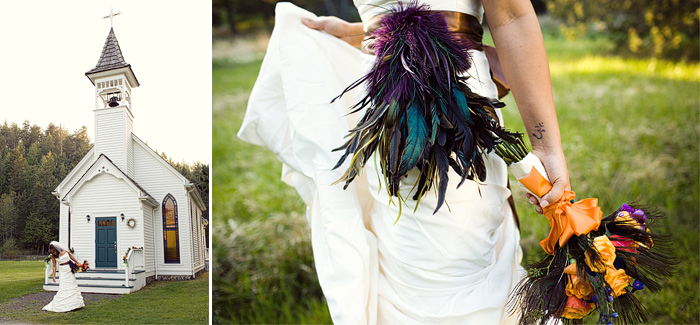 Yup. My kind of couple!